The museum contains a wealth of Lafayette history, from the early days of pioneer heritage, through the coal mining years, and into the present. Visitors will view a broad collection of displayed artifacts. A particular favorite is an aerial map that highlights the extent of the mining beneath our feet. Almost every resident who visits loves to pinpoint their house to see if it sits above a tunnel. 
Like most museums, only a small percentage of our collection is on display at one time. It is essential that we rotate the objects on exhibit for their preservation.
Lafayette History Museum's collection consists of approximately 4,000 items, including roughly 2,600 historic objects (such as agricultural and coal mining tools and equipment, architectural features, and household goods), around 500 textiles, some 350 archival documents (like ledgers, records, newspapers, scrapbooks, local ephemera, maps), and approximately 1,000 photographs. The collections predominately date from the 1880s through the 1940s, when coal mining was at its height. Some of the most significant within the collection are: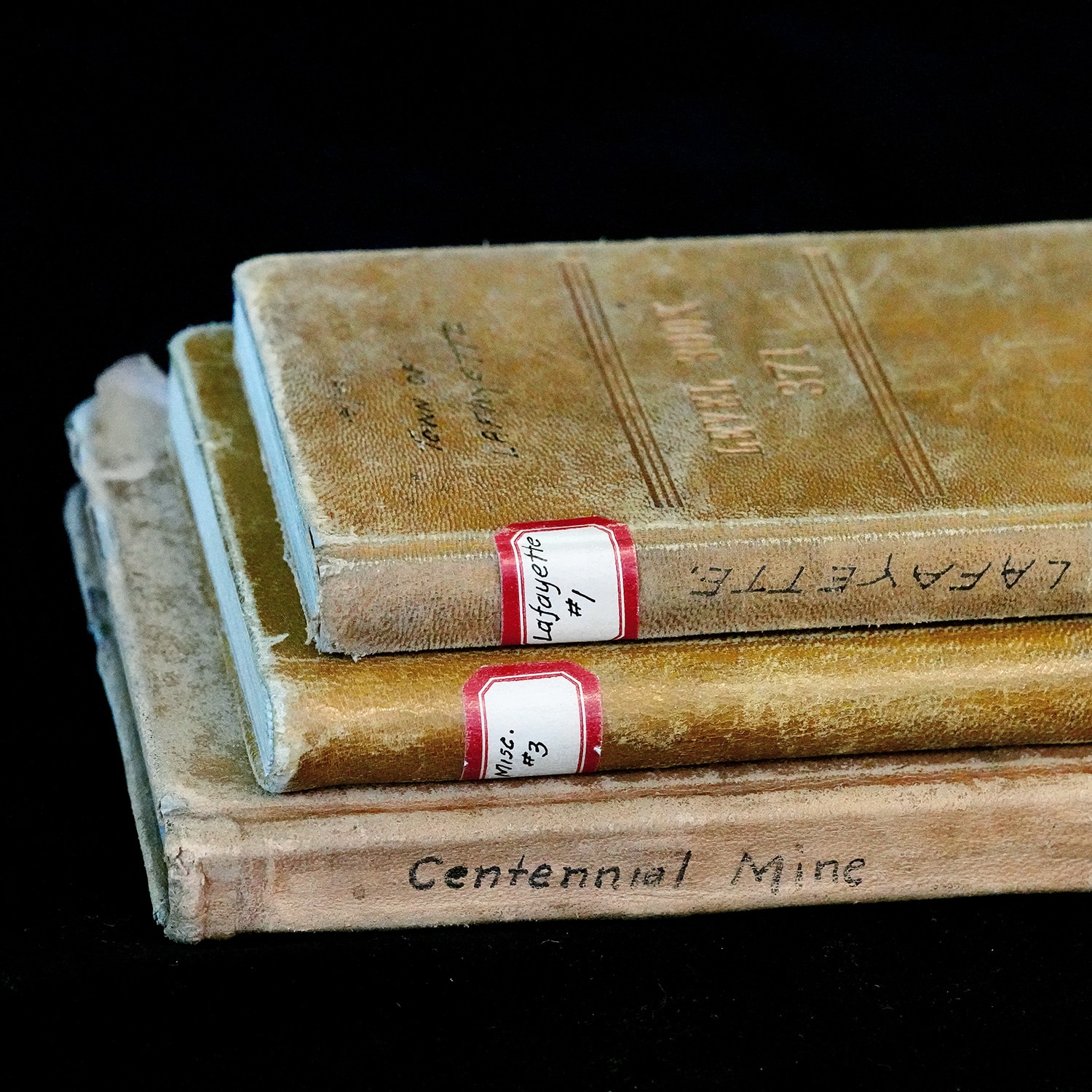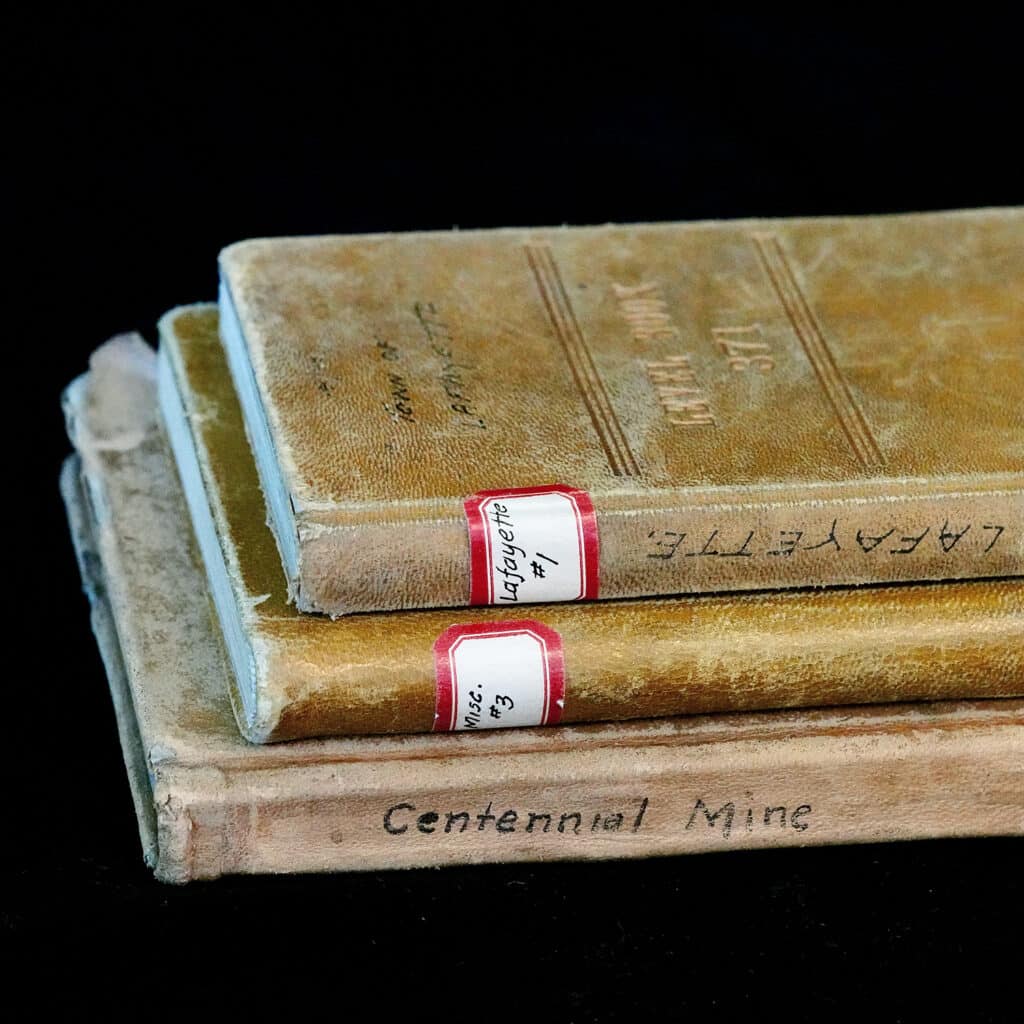 (70) Oral histories and biographies representative of Lafayette's immigrant and working-class heritage. Most were recorded in the 1970s and 1980s.

(75) Maps of the Northern Coal Field, local towns, and underground mining tunnels. These tunnels are still present beneath the community and result in occasional subsidence. Such primary source materials exist nowhere else, so we are often consulted by neighbors who are concerned about what may lay beneath their homes.

Hundreds of materials related to Lafayette High School, a collection well-loved by the aging alumni. The high school operated from 1926 to 1972, and the museum curates a sizable collection of photographs, documents, and textiles dating to its beginning. In recent years, LHS digitized the Senior Photos Collection (every class from 1938 through 1972) and integrated the portraits into a searchable database that is on permanent display and accessible to visitors during open hours.

The photographs are the most utilized and accessed materials. Several digitization projects have made hundreds of the photographs available online. LHS strives to have all of its collection visible online, but we still have many years of work ahead before we digitize everything. 
Collection items are accessible by request for personal and professional reference and research. 
Online Collections Database
The museum is dedicated to getting artifact, photograph, archival, and library collections online so you can view them from home. This is a continuing effort, we regularly update the online database. A portion of our collection has been digitized and is available at the link below.
Lafayette History Museum is always happy to provide help researching historical questions. Whether you're doing genealogy research, wondering about the history of your house, want a copy of a historic photo, or anything else, we'll do our best to help you find what you need! Email info@lafayettehistoricalsociety.org or call (303) 665-7030 to get started.
If you'd like to do research on your own, here are some resources to get started.
Local Government Resources
Lafayette History Museum sells a wide variety of reliable books on local history in our gift shop. Stop by to purchase one of the titles below!
80026: An Illustrated History of Lafayette by Doug Conarroe – $29
Back to Basics: Frontier Schools of Boulder County by Anne Quinby Dyni – $17
Female Felons: Colorado's 19th Century Inmates by Elinor Myers McGinn – $7.95
Greater Boulder Memories by The Daily Camera – $29
Historic Walker Ranch: Western Cowboy Country by Joanna Sampson – $4.50
History of Waneka Lake by Andrew R. Patten Jr. – $15
Into the Jaws of Hell by Tom Sutak – $22
Lafayette Colorado Volunteer Department by James D. Hutchison – $16.25
Lost Lafayette, Colorado by Doug Conarroe – $22
Niwot, Colorado: Echoes from a Railroad Town by Anne Dyni – $6.50
Remember Ludlow! by Joanna Sampson – $5
Remembering Ludlow but Forgetting the Columbine by Dr. Leigh Campbell-Hale – $35
Small Things: Poetry of Allie Flint edited by Nicholas Bernhard – $20
Survey and Settlement by James D. Hutchison – $20
The Lincoln Highway through Lafayette by Andrew R. Patten Jr. – $15
The Louisville Story by Carolyn Conarroe – $15.95